A Deadly Denial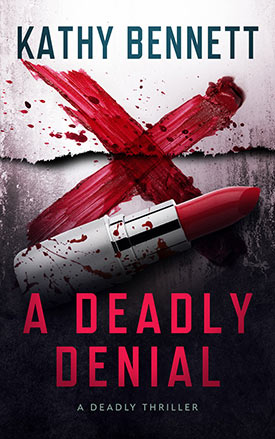 Book 4: The Deadly Thriller Series
A tangled web of lies…
Someone is killing cops. Detective Maddie Divine has been reunited with her former partner, Darius Cutter, and the pair are assigned to find the madman who is dropping officers at an alarming rate. When a patrolman from the department is killed and his wife—who is also a cop— is the number one suspect, Maddie and Darius find themselves deep in a deceptive labyrinth of lies. Unfortunately ladies man Darius is keeping secrets of his own that could taint the entire investigation.
No one left to trust…
Extramarital affairs and witness tampering—not to mention Maddie's own personal secret weighing heavy on her mind. Is her dead husband trying to contact her from the grave? Or is she finally breaking down over the guilt of his death? As she pieces together clues from the murder, the body count rises, and Maddie knows she's running out of time. Because the next death could be closer than anyone could imagine.
Maddie - 1
Wednesday morning, my partner, Jade Donovan, and I made our way into the cramped war room at Robbery Homicide Division at the LAPD's Police Administration Building, more commonly called PAB.
About twenty-five detectives crowded around the conference table, but only half the group sat in chairs. We'd arrived too late to secure a place to sit. In any other profession, the men sitting at the table would offer their seats to the women in the room. But cops are a different breed, and even if Jade and I were offered chairs we wouldn't take them. Long before us, women on the job fought hard to be taken seriously, and we weren't going to disregard their struggle so we could sit.
"Maddie Divine," a voice called through the din of chatter.
I'd recognize that male voice anywhere. I scanned the room, looking for my former partner, Darius Cutter. I spotted him leaning against the far wall, looking GQ as usual, wearing a sleek suit and a pale yellow shirt that contrasted nicely with his dark skin. I smiled and waved.
He made an apologetic motion indicating he couldn't move.
I shrugged in response. If we hadn't lost a well-liked veteran sergeant two days ago, the troops would be loudly protesting the tight quarters. But the detectives gathered in the room spoke in quiet tones, speculating on the circumstances of Dale Peyton's murder, and wondering if our summons to PAB was related to his death. The crime hit Jade and me especially hard. We worked at Devonshire Division, and we'd interacted with Peyton personally. He was a good supervisor and an all-around nice guy.
The commanding officer of Robbery Homicide Division, also known as RHD, came into the room followed by a lieutenant carrying a bunch of papers. They moved to the head of the conference table and stood. Somehow, the packed herd of detectives made room for them.
"Good morning," the captain said. His freshly shaven face and crisp ironed shirt were a striking contrast to the dark circles under his eyes and the deep lines between his brows. "You've been sent here by your commanding officers because they consider you the best they've got.
"We've been working this case for the past two days, and frankly, we don't have any clues. The location of occurrence is isolated and we've got zero witnesses. The media has reported Sergeant Peyton broadcast another unit arrived on the scene, and that's true. The problem is there is no record of another unit responding to the scene, and no officers are coming forward saying they were there."
I fondled the miniature angel secured by a gold chain around my neck. Looking around the room, I saw the same grim expression on each person's face. As though reading our minds, the captain continued.
"The implication this crime was committed by a cop is troubling, but we can't make any assumptions one way or the other. We must have facts, and that's why you're here. We need people, and lots of them. We'll have teams canvassing the streets and houses leading to, and running the length of, Browns Canyon. Detectives will compare logs, radio transmissions, and even days off to determine where people were at the time of the incident."
While listening to the captain detail the job ahead of us, I looked around the room and saw the enormity of the task at hand become realization for my coworkers. My gaze met Darius's and he shook his head.
"This is what we do know. Peyton was shot twice with a .45 caliber, probably a Glock. No casings were found. One of the rounds severed his spinal cord; the other one just missed his lung. We're thinking because his spinal cord was severed and he wasn't moving, the suspect thought he was dead, but the autopsy revealed Peyton wasn't killed instantly."
"His body armor didn't protect him?" a detective asked.
The captain shook his head.
"He wasn't wearing any body armor," said a lieutenant standing next to the captain. "Word around the station is Peyton broke regulation in the hot summer months and didn't wear his protective gear. Poor bastard. That choice likely cost him his life."
The captain introduced the lieutenant as Joe DiFatta and advised he'd be running the Peyton investigation. Before he left, the captain turned the meeting over to the lieutenant who quickly did a roll call and then gave the group their assignments.
"Topanga Division, Grand and Leong, you'll be reviewing patrol logs. West Valley Division, Ryan and Pratt, you'll audit audiotapes from the radio transmissions. Mission Division, Cutter and Wilbanks, you'll be canvassing the area leading to Browns Canyon for witnesses. Divine and Donovan, since you work Devonshire and are more familiar with the area, you'll be canvassing Browns Canyon."
The lieutenant gave assignments to the remaining detectives in the room. "Those of you analyzing paperwork, you'll be working out of this war room. Those of you working in the field will work out of Devonshire. The inside phone number for Devonshire is written on the board. If you have any questions, or get something you think is significant, call us. I know detectives don't normally turn in a daily log, however, due to the nature of this case, it's imperative we have a record of who did what, so we're asking you to complete a sergeant's log daily. Any questions?"
A male detective sitting at the table raised his hand. "Is there anyone on the department who had a beef with this sergeant? Anyone we should be looking for as we conduct our investigations?"
"That's the crazy thing," said DiFatta. "Dale Peyton was a supervisor everyone respected and liked. Even the officers he'd disciplined in the past spoke of him in glowing terms. His murder doesn't make any sense."
"A cop being murdered never makes any sense," I murmured, giving the angel at my neck a final squeeze then releasing it.
Jade leaned toward me, a worried expression on her face. "Maddie, I have to talk to you and I'm afraid I've got bad news."