A Deadly Thriller Boxset 1-3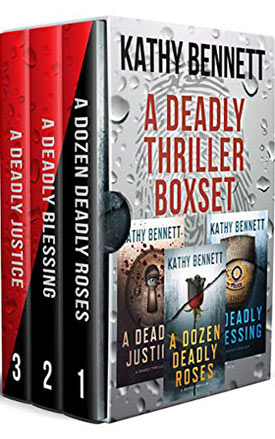 Books 1-3: The Deadly Thriller Series
Authentic Crime…Arresting Stories
Author Kathy Bennett is no stranger to murder and mayhem having enjoyed twenty-one years of thrills, heart-pounding action, and numerous twists and turns while working the mean streets of Los Angeles as an LAPD officer. Named Officer of the Year in 1997, Kathy's experience translates into exciting page-turning tales of the men and women of the LAPD sworn to protect and to serve, while battling bureaucracy, bad guys, and bullets.
Kathy presents Books 1 - 3 in her best-selling Deadly Thriller full-length books:
A DOZEN DEADLY ROSES:
Someone wants her dead…
Police officer Jade Donovan thought life was going well: a sweet four-year-old son, a good job, and a promotion in her future. But things have taken a dangerous turn. She's being stalked. Her predator delivers dead roses to Jade, each time the threats more descriptive, more terrifying.

He had nothing to live for.
Former cop Mac Stryker lost everything years ago: his wife, his daughter, and his career, which he drowned with whiskey. Now nearly five years sober, Mac is slowly rebuilding his life. He's got his badge back and a newfound purpose: to help his partner find the man stalking and threatening her.
A DEADLY BLESSING:
(A Barnes and Noble Best Nook Book Original of the Year)
Politics is a dirty business…
When LAPD Detective Maddie Divine is called to a private meeting with the mayor and the governor, her instincts kick into high alert. Young women are disappearing, but why all the political secrecy? Maddie throws herself into finding the answers—a good distraction from her crumbling marriage. But things are about to get worse—in more ways than one.
But death is dirty, too.
When one girl is found dead and no one claims the grisly deed, the clock continues to tick, and Maddie is running out of time. If her suspicions are right, death isn't the only thing the kidnapped girls have to fear—clues point to the involvement of a notorious sex-trafficker. Will Maddie become the next victim?
A DEADLY JUSTICE:
She thought the past was put to rest…
Detective Maddie Divine is back and paired-up with fellow detective, Jade Donovan, to solve the brutal murder of a 16-year-old-girl. Why would someone kill an all-American girl? Has the serial rapist they've been searching for just become a murderer? Manipulation and deception meet Maddie and Jade at every turn as they question who has the motive to kill.

But now it's back for vengeance.
While Maddie tries to come to terms with the recent death of her husband, working with the police therapist before the guilt and anger she feels affects her job, Jade is up against a vindictive sergeant who has an ax to grind against her. Twists and turns lead Maddie and Jade down a rabbit hole, intertwining Maddie's past with the present. All of these crimes are connected by a single thread, but can they figure it out before Maddie becomes the next victim? Or will her past become a living nightmare?